Serious manages our vendors to the following LCD Quality specifications. Unless otherwise specified, the following specifications apply.
Can't find your answer below? Contact our team.
LCD quality sampling is performed according to GB2828.1-2012 or ISO2859-1:2014 depending on the originating factory.
Single sampling is performed at general inspection level II.
Visual inspection: AQL 1.5%
Electrical functional: AQL 0.5%
For detailed requirements refer to the Reliability Test Specification on the individual LCD Technical Reference Manual (TRM).
NonConforming Analysis & Disposition
Customers with believed nonconforming product should request a failure analysis (FA) and return materials authorization (RMA) from Serious. Contact us for instructions.
Upon receipt, Serious will attempt analysis of nonconforming LCDs. In the event the LCD requires more detailed analysis from the original factory, Serious manages the FA/RMA process with that specific factory.
Disposition of Nonconforming Product
Product Visual Inspection
The inspection must be under illumination of approximately 1000-1500lx from a distance of 30cm +/- 2cm
The viewing angle should be between 0 and 45 degrees from vertical line surfaces without reflection light, or if specified in the FA at the customer's viewing angle specification.
Inspection zones shall be as follows:
A: LCD Active Pixel Area
B: LCD Viewing Area
C: Non-Optical Areas, including mechanicals, tail stocks, and chassis
Liquid Crystal Module (LCM) Inspection Specifications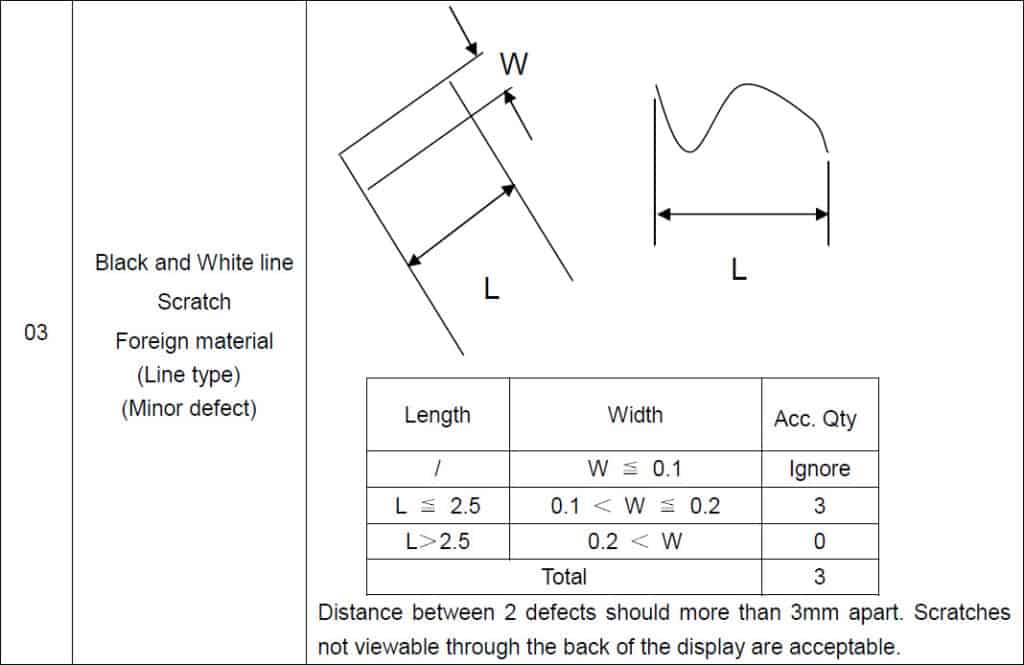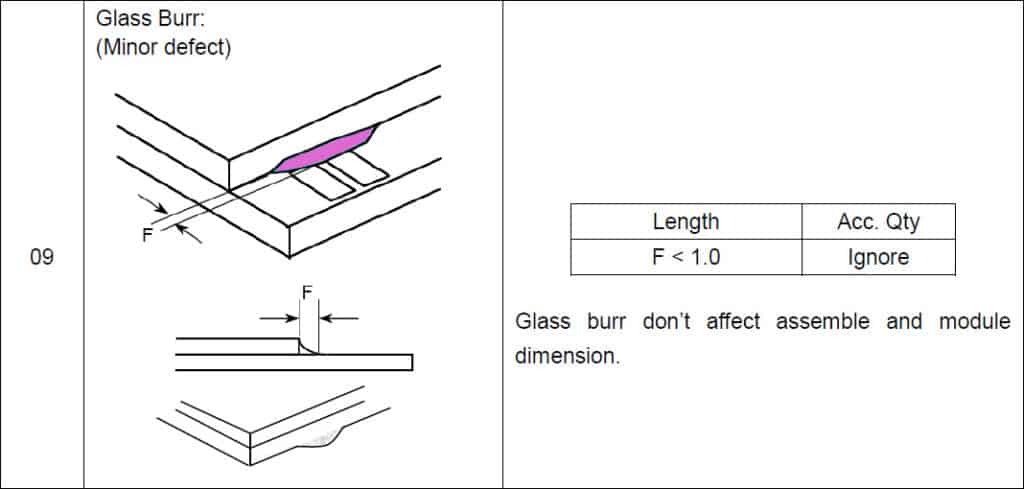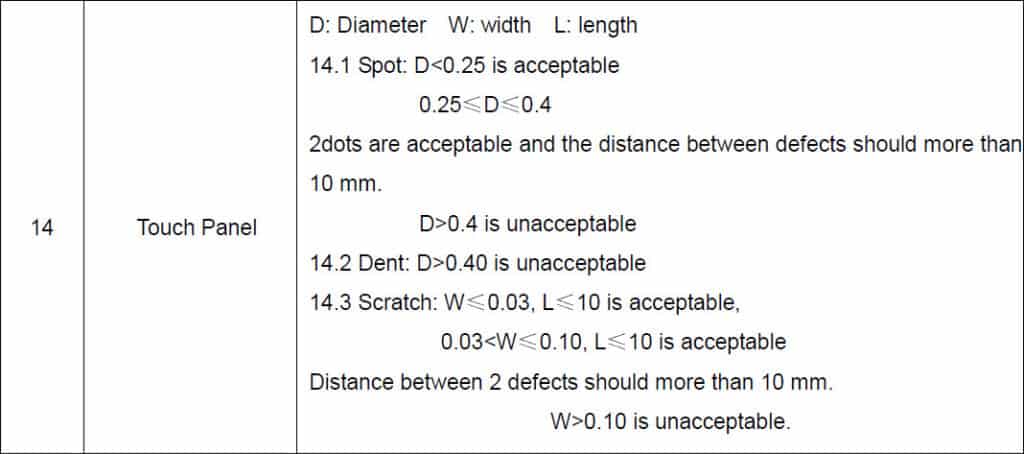 Capacitive Touch Panel (CTP) Inspection Specifications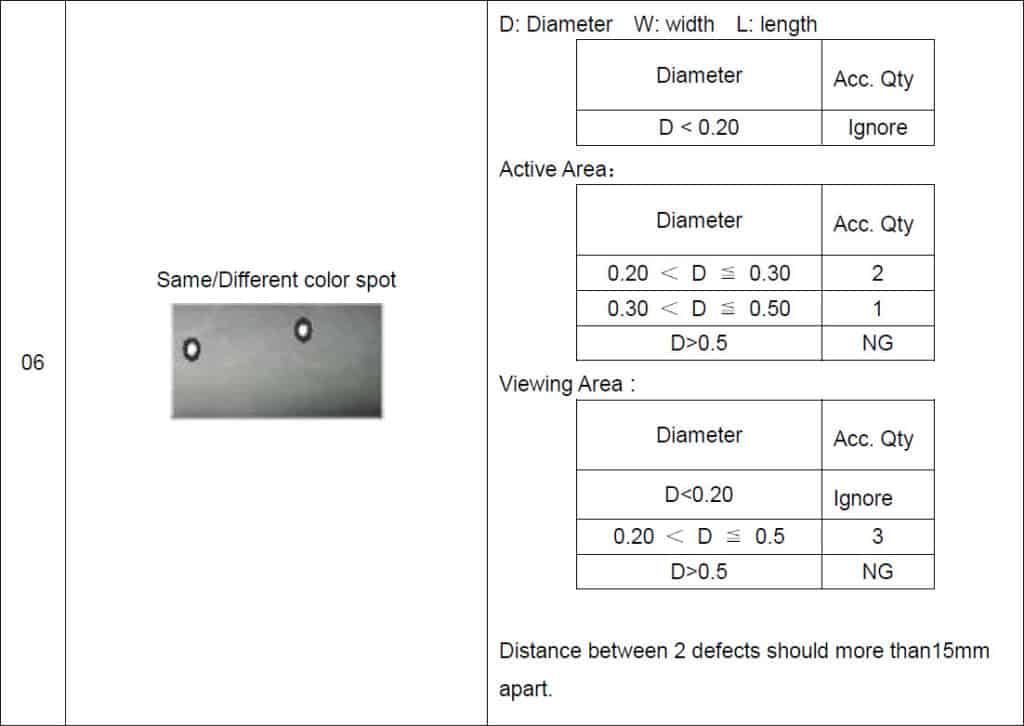 Classification of Defects
Visually inspected defects, with the exception of labeling defects, are treated as minor defects.
Electrical defects are considered major defects.
Two minor defects are equal to one major defect in lot sampling inspections.
Any unit with incorrect, illegible, or no marking/label shall be rejected.
There should be no damage on the carton containing the modules.
Each carton shall contain a marking/label identifying the product within.
All packaging material within the carton shall offer ESD protection.
Note 1: Bright & Dark Dots
Bright Dot:The bright dot size defect at black display pattern. It can be recognized using a 2% transparency filter with the distance between eyes and panel of 350mm±50mm.
Dark Dot: Cyan, Magenta or Yellow dot size defect at white display pattern. It can be recognized using a 5% transparency filter with the distance between eyes and panel of 350mm±50mm.
The Bright Dot or Bright Dot size is defined as a defective area if the area of the dot is larger than 50% of one sub-pixel area.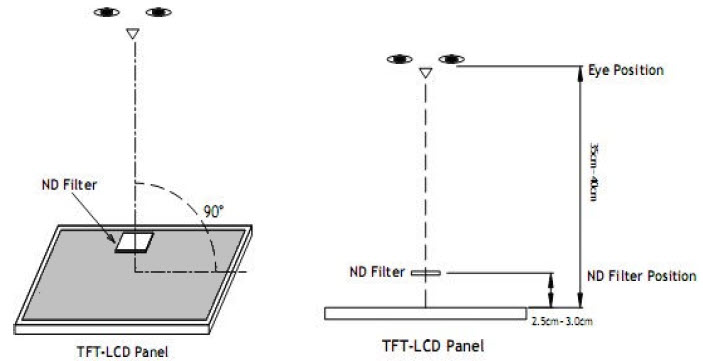 Mura on display which appears darker/brighter against background brightness on parts of display area.