SCM117 Power/Comms Module
The 60-pin low profile board-to-board header docks into Generation 3 or 4 Serious Integrated HMI Module (SIMs), and the standard 3.5mm industrial screw-terminal-plug connector is a simple connection to power and the serial network.
Explore these options compared to the SCM117:
SCM318 for high performance and cost effective comms & control for the latest generation HMI modules
SCM208 for comms/control applications with older generation 3 & 4 HMI modules
Note that new generation 5 HMI modules include the SCM117 functionality built-in!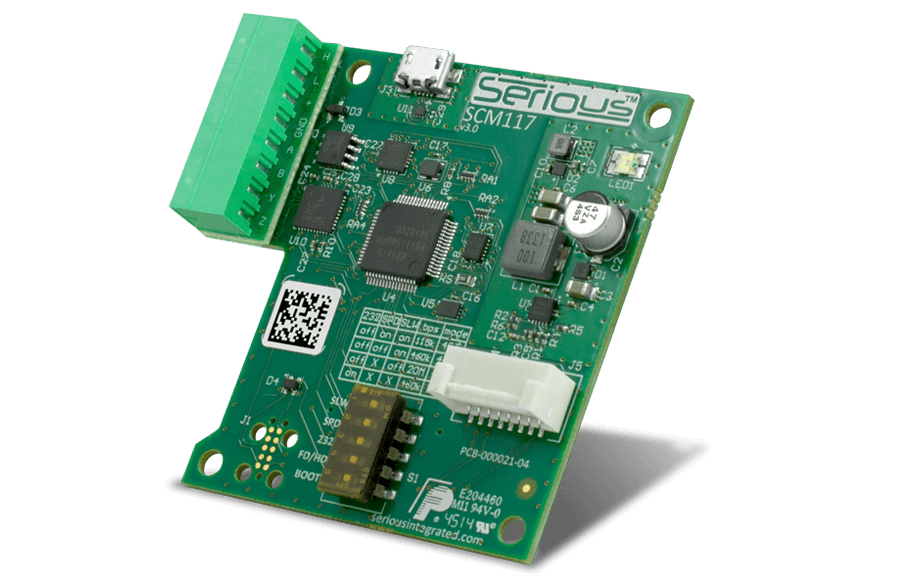 Easy SIM Connectivity
Board-to-board direct attach to 3rd and 4th Generation SIMs
Network to SIM Power Conversion
9-25V to 5V @ 2A (max) DC-DC converter
Powers both SCM117 and attached SIM
Accommodates Programmable Logic Controller (PLC) standard 24VDC power supplies
RS232/RS422/RS485 Connectivity
Robust 6 pin industrial wire connector
Switch-selectable RS232/RS422/RS485 transceiver
Half and full duplex
Differential and single ended
Switch selectable slew rate
Wide Operating Range
-40 to +85°C operating temperature
9-25VDC Input Power
SCM117 Variants
A00
A03
Power & Environmental
Operating Temperature
-40/+85C
-40/+85C
Operating Voltage
9 to 25VDC
9 to 25VDC
Processor & Memory
Processor
Renesas RX111 MCU
–
Core(s)
RX100
–
MCU Flash/RAM (kB)
128/16
–
Communications
RS232/RS422/485 From MCU
●
–
RS232/RS422/485 SIM Passthru
●
●
CAN
●
–
USB2.0 HS Device Micro B
●
–
HMI Connectivity
3.3V UART
●
●
RESET#/SHDN# Control
●
–
60-pin Gen3/4 HMI1 Docking Connector
●
●
1
For
SIM115
,
SIM231
,
SIM535
,
SIM243
, or
SIM543
Serious Integrated HMI Modules (SIMs)
Development Kits
This product is not recommended for new designs and development kits are no longer broadly available.  
Contact your local Manufacturer's Representative if you are an existing customer of this product and need an additional development kit for your team.
SHIPTide GUI Development IDE
Pixel accurate page layout
Built-in media support: jpg, png, bmp, tif, ttf, wav, and more
Windows tested
SHIPEngine Runtime GUI Engine
Licensed with every SIM
Runs GUIs generated by SHIPTide
Handles graphics, touch, communications, events, and more
Learn More